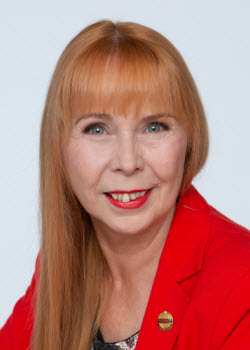 Candidate's Office: Second Vice President
Region Number: 10
Toastmasters member since: 2002
Education: Masters specialized in Management and Engineering
Employer and/or position: Finnish Digital and Population Agency, Development Manager
Served as District Director of District number: 95
Term of service: 2015-2016
In term as District Director, District achieved: Presidents Distinguished
Website: tuire2ndvp.org
Toastmasters offices held and terms of service (international and regional level):
2018-2020 International Director
Toastmasters honors and recognition (international level):
2015-2016 Excellence in Leadership Award
2015-2016 Presidents Extension Award
2015-2016 Presidents Distinguished District Director (#6 district)
2014-2015 Excellence in Education & Training Award
2013-2014 Excellence in Marketing Award
Relevant work experience and how it relates to Toastmasters and your role as a Board Member:
I have experience both in IT and in marketing, where I've been working with projects that involve penetrating into new markets, strengthening current position, and repositioning a product or service.
I have more than 20 years of experience as an IT project manager. I've been involved in IT projects in which I have been in charge of reengineering the processes and carrying out changes throughout the organization. I've been working on various steering committees, planning the strategies, and working with experts who have different cultural backgrounds.
Currently I'm leading the development of the core components of Finnish artificial intelligence program which aims to implement a human-centric operating model in which artificial intelligence helps citizens and companies to consume services in a timely and ethically sustainable manner. Development and maintenance of technology required for the AuroraAI network project is managed by Finnish Digital and Population Agency.
What experience do you have in strategic planning?
Most of the projects I've worked on have involved the strategic planning phase, the "what and why". Some examples of creating a new service or product:
I created the strategic positioning for one of the first internet start-ups in France. At that time most of the start-ups focused on creating customer portals of local business directory. I envisioned the upcoming needs of internet applications for business use and convinced our team to look for business to business sectors to create those applications.
I defined the strategies to launch a new software for a professional market. The actions for reaching the results were to create a technical expertise team who could support Nat Systems' European subsidiaries on projects and transfer the competence to local teams. I also conducted a technology and market study in order to contribute to the evolution of the solution NatWeb.
In Toastmasters, I set up the strategy of expansion Toastmasters in Finland in order to apply to a district.
What experience do you have in the area of finance?
I've been responsible for the budget and controlling the finance as development or project manager. At Finnish Digital and Population Agency the budget planning and reporting is conducted to a national level portfolio management tool as it is a part of the government program.
On the Toastmasters Board I was involved in reviewing, discussing and voting on the budget and financial matters.
At Finnish Customs I worked for tax ledger application and learnt another aspect of finance. I was in charge of preliminary study of financial management reengineering. The Project started with assessing the current processes to find out the bottle necks and risks, followed by defining target processes and conducting a gap analysis.
What experience do you have in developing policies?
My experience is related to developing policies as I've been working with the projects which involved in suggesting or reviewing the changes to Finnish law. Another aspect in reviewing the suggested changes to Finnish law or Union Customs Code was to determine their impact on the processes.
In the project of setting up an internet business unit, I created the policies and best practices to follow for project managers and development team. The result of that work was a Quality Manual, which defined a methodology for conducting value added projects and specifications for the application architecture.
On the Toastmasters Board I collaborated with other Board members to develop new, and enhance existing, policies and protocols.
What lessons did you learn from previous leadership positions?
The most important lessons are connected to communication. The more complex or abstract the project, the more communication is needed. Even if it requires repeating the same message over and over again. I've learnt to create a project mission that is simple, clear and well defined. Throughout the project, such a mission statement provides guidelines and helps to keep the focus on the 'main thing'.
As District leader in a District that served 18 countries with almost as many languages, I learnt to state clearly in emails, what's expected from the reader, if an action or reply was required.
I've also learnt that diversity of cultural differences is not only related to language or nationality, but also to the professional sector. Sometimes two engineers with different native languages understand each other better than an engineer and an artist with the same native language.
What experience and key strengths would you bring to the Board of Directors?
I have experience in marketing and IT. The business sectors from which I have experience vary from Customs, to Broadcasting. During a ten year project at Finnish Customs, I learnt Customs systems in Europe and the taxation when importing goods to the EU. In the banking industry, I've worked with diverse International projects within Europe. At Eurosport I learnt about the broadcasting and sport industry, mostly how to create synergy and partnerships with diverse operators in the industry. I'm studying the future trends in my current assignment with the Finnish artificial intelligence program which aims at implementing a human-centric operating model in which artificial intelligence helps citizens and companies to consume services in a timely and ethically sustainable manner.
My strengths are analytical skills applied to creativity while optimizing the budget. I'm curious and eager to follow current trends and future possibilities. In my work I've learnt quickly to analyze the sources of current problems and seek for creative solutions. In IT my main task has been to envision the future and future applications of the emerging technology.
Why do you want to serve as an International Officer/Director?
I believe that our countries, companies and communities need motivational leaders and Toastmasters can be an answer for this need. I want to make the envisioned future become reality.
I have such knowledge and experience that I wish to share in Toastmasters and in that way keep on serving members. I've gained experience in expanding Toastmasters within a new country and how to build future leaders. I want to expand this knowledge so that each member in each country could benefit the support from their leaders and district.
What volunteer experience do you have outside of Toastmasters?
I've been volunteering on a project basis in organizing diverse activities or events within my business, at my daughter's school, and in my community. For example I organized a weekly fitness and gym session for my colleagues during the lunch hour. At my daughter's school, I contributed to fundraising events, and in my community I actively attend events which aim to improve the environment by cleaning up the public green areas, planting flowers and trimming the trees.
Have you worked with other Boards of Directors outside of Toastmasters? If so, describe your experience.
I've worked with several steering committees or executive teams, in which I represented my domain of expertise or my business unit. In my startup, I worked with the board of directors and decided on the strategies for getting the market share, determining service mix which would appeal to business needs. At Eurosport I worked with the directors from different business units and defined the strategies and services for creating an internet platform for the sports community.
In your opinion, what are Toastmasters International's major objectives and how would you work to achieve them?
In the short term, the major objective is to define the strategic plan 2020-2025 and how to reply to the changes Covid-19 brought to us. We can be effective by doing the right things and for this I would build a continuous evaluation and prioritization process in order to evaluate the initiatives against the strategic goal. I would also define the tools for measuring the success of each initiative.
In the long term, the major objective is to become the first-choice provider of high value, dynamic experiential communication and leadership training. That objective involves managing growth while expanding globally.
Additional information about candidate:
I started Toastmasters in Finland and integrated it into District 59. During this process, I looked for advice from District 59 leaders, started to build future leaders in Finland, and trained club members and officers. Later I shared my experience and helped Romania, Ukraine and Baltic Countries in the process of becoming districted.
As Division Governor, I created a District Leader mentoring team consisting of the most experienced Toastmasters in Division G. They've helped me to recognize the future leaders, to mentor Area Governors and to guide Club Building Leaders.
As Lieutenant Governor Marketing, and in charge of future District 95, we achieved best ever net club growth in the world: +63 clubs.
As Lieutenant Governor Education and Training of newly formed District 95, I foresaw the growth pattern and suggested a joint reformation committee with District 59 to District 95 trio for creating five districts in Continental Europe. The proposal was approved by both District Governors 59 and 95 who started the process of the reformation with Toastmasters International. As District Director, I worked closely with District 59 Director and Reformation Committee Chair Morag Mathieson.
---