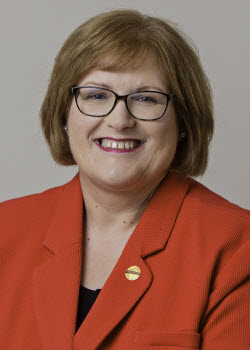 Candidate's Office: First Vice President
Region Number: 10
Toastmasters member since: 2006
Education: MBA (Open University) , B.Sc.(hons) Pharmacy (Robert Gordon University)
Employer and/or position: Self employed Professional Development Consultant
Served as District Director of District number: 59
Term of service: 2012 - 2013
In term as District Director, District achieved: President's Distinguished
Website: morag1vp.com
Toastmasters offices held and terms of service (international and regional level):
2017-2019 International Director
2016 Training & Development Advisory Committee Member
2014-2015 Region Advisor
2013-2014 Pathways Chief Ambassador
Toastmasters honors and recognition (international level):
2012-2013 President's Distinguished District #1
2012-2013 President's 20 Plus Award
2012-2013 President's Extension Award
2012-2013 Excellence in Leadership
2011-2012 Excellence in Education & Training
Relevant work experience and how it relates to Toastmasters and your role as a Board Member:
My work experience in the corporate world, as an entrepreneur and in non-profit leadership has meant I have had diverse responsibilities and delivered results in a range of settings.
As General Manager and Superintendent Pharmacist of Belfast Co-operative Chemists I had full responsibility for strategy, service development and delivery at this pharmacy chain with a budget of over £100m.
At Alliance Pharmacy I created new concepts and methods of operation, becoming known as a change agent for my ability to support others during periods of growth and evolution.
Serving as a liaison on government boards and committees allowed me to demonstrate my ability to work collaboratively to deliver significant results.
As the chair of a charity board I have developed vision and strategies to lead the charity forward during a time of significant change.
In Toastmasters and professionally I have led and inspired geographically dispersed and diverse teams.
This breadth of work experience gives me a deeper understanding of the diverse perspectives required to work strategically on our board.
What experience do you have in strategic planning?
As the General Manager of Belfast Co-operative Chemists I developed and implemented strategies to lead a successful chain of retail pharmacies to deliver performance above market average.
I also introduced Continuing Professional Development (CPD) for pharmacists in Scotland and worked with others to develop new roles in the pharmacy profession in the UK.
Alliance Pharmacy hired me as CPD Manager to develop and implement a CPD strategy for staff in the company's 910 pharmacies to become one of the first in the UK to implement such a system.
On the Toastmasters Board I was involved in strategic planning exercises. I also served on Board committees, including Governing Documents Review, Recognition Programs and Club Leadership Roles and Responsibilities.
As Chair of the Joint Reformation Committee of Districts 59 & 95 I led a team to prepare a strategic proposal for the restructure of Toastmasters in Continental Europe from 2 into 6 districts. This proposal, of unprecedented complexity has now been implemented.
What experience do you have in the area of finance?
I have managed budgets responsibly for projects, departments and a whole organization ranging from a few thousand pounds to in excess of 100 million (123 million USD). The scale and range of these budgets allowed me to understand the impact of a budget in effectively managing an organization.
As a treasurer in the volunteer sector I have served in preparing budgets, managing finances and keeping accurate accounts to help the organization deliver its strategic plan.
On the Toastmasters Board I reviewed, approved and contributed to oversight of the Toastmasters International budget and financial performance ensuring congruence with the strategic direction.
What experience do you have in developing policies?
As CPD Manager I was involved in cross-departmental teams that wrote policies for patient services, a postgraduate sponsorship program and for CPD in the company. As a member of the Pharmacy Services Boards for governments in Scotland and Northern Ireland I helped write and review policies for various services related to public health.
On the Toastmasters Board I was actively engaged in reviewing, amending and creating policy, including a complete review of the Governing Documents and related changes.
What lessons did you learn from previous leadership positions?
Some lessons I have learned are:
Listening to others with a heart to understand them, shows they are valued and respected and makes for better teamwork and better outcomes.
Leaders always develop others. This strengthens the team, enables more people to shine and flourish, and confirms the value of individuals while creating more leaders for the future.
Accepting that everyone has an equally valuable yet different perspective allows differences to be explored. Healthy conflict in service of achieving our goals together helps teams perform more effectively.
Creating a culture of feedback and accountability results in higher standards being reached, and we all learn and grow together.
What experience and key strengths would you bring to the Board of Directors?
I will bring experience in strategic planning and service delivery from the business, government and voluntary sector environments along with a heart to give and receive world-class service.
Serving on the Toastmasters Board I contributed to discussions, actively listened to understand others' views gaining a deeper understanding of Toastmasters globally and made decisions based on research and underpinned by core values. This experience, combined with service in a multi-country district and region, and leadership of diverse teams has built my cultural awareness and global view.
My ability to communicate with clarity and simplify the complex helps others understand topics and facilitates the sharing of vision.
I am seen as a forward thinker who is able to see the bigger picture.
My calm and centered leadership approach in challenging situations fosters constructive outcomes.
Why do you want to serve as an International Officer/Director?
Toastmasters International has the power and potential to improve the lives of individuals, organizations and communities everywhere through its program. We are on the threshold of our 100th anniversary and I believe the next century of Toastmasters can be just as impactful as the one we're closing out. Building on our legacy, together we can make a positive future our reality.
We need dedicated and proven leaders to create the future success of our organization, who care deeply about what happens to us and who always aim to have a positive impact and make a difference. I believe I always add value, bring knowledge, experience and commitment to help us deliver excellently on our envisioned future.
What volunteer experience do you have outside of Toastmasters?
I am the chair of the board of Living Water Germany e.V., which is a child sponsorship charity.
I have served as a leader in the USA Girl Scouts Overseas in Southern Germany: on the board, as regional treasurer and as a local volunteer.
I devote time with other native English speakers, to help students in German schools prepare for their oral state tests in English and I serve as administrative support for my local church.
Have you worked with other Boards of Directors outside of Toastmasters? If so, describe your experience.
Since 2018 I have been the chair of Living Water Germany e.V. I have worked with the board to develop vision, strategy and manage transition in the organization.
On Pharmacy Service Boards of government departments in Scotland and Northern Ireland we developed strategic plans to ensure the provision of appropriate pharmacy services.
I was an advisor to the Board of Directors of Alliance Pharmacy on maximizing service delivery opportunities arising from government policy and on developing career paths for professionals.
I served on the Board of USA Girls Scouts Overseas in Southern Germany to bring an exciting growth program for girls. My specific responsibility was for finance.
I worked well with colleagues at all organizational levels and contributed significantly because of my knowledge, my analytical and reflective skills and my commitment to collaboration.
In your opinion, what are Toastmasters International's major objectives and how would you work to achieve them?
To enable us to deliver our mission of empowering individuals to become more effective communicators and leaders, our Interim Strategic Plan sets out four major objectives:
To support clubs to deliver a consistent, high quality experience for our members.
To support members to achieve their communication and leadership goals.
To expand the global recognition of Toastmasters and promote engagement worldwide.
To add value through tools and processes and deliver world class operations.
As we navigate the challenges of the global pandemic, I see a need for close attention to growth, quality and adaptability across our organization. The first steps towards this are to understand our growth patterns and our performance drivers to develop appropriate strategies, as well as developing our communication and transparency to enable collaboration and action at such a time of change.
Continuing development and embedding of Pathways as our core education program requires strategic focus as this is a major contributor to member experience and the achievement of our mission.
We are committed to bring the benefits of Toastmasters to an ever-widening population resulting in greater impact around the world. To achieve that we need to become a truly global brand, an organization with appropriate and powerful marketing around the world, where everyone has excellent service in all aspects of their Toastmasters experience.
This is also a time of opportunity to secure our position as a first choice provider of communications and leadership skills development in the online world. As we support our clubs with tools for quality, revitalize our training for club and district programs, and adapt programs to both online and face to face environments, we move towards that goal.
I will work collaboratively with the Board of Directors and our members to progress these objectives and shape our strategies to achieve them. I would leverage feedback from members, particularly during district visits, on the progress and impact of the objectives.
Additional information about candidate:
I love it when I have the opportunity to meet people who inspire me, people who I can inspire at the same time, so that we all grow together in the process. I have been blessed with opportunities to do this as I connect with members across our organization.
My husband David and I joined Toastmasters on the same day and throughout our own differing Toastmasters journeys we remain loyal supporters of each other and committed members of this wonderful global community.
---