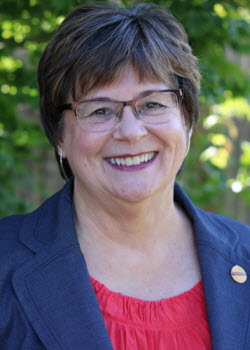 Candidate's Office: Second Vice President
Region Number: 1
Toastmasters member since: 1998
Education: Masters in Organization Management
Employer and/or position: Retired
Served as District Director of District number: 32
Term of service: 2012-2013
In term as District Director, District achieved: Distinguished
Website: mary2vp.com
Toastmasters offices held and terms of service (international and regional level):
2017-2019 International Director
2015-2016 Region Advisor
2014-2015 Region Advisor
Toastmasters honors and recognition (international level):
2013 Pathways Learning Master
Relevant work experience and how it relates to Toastmasters and your role as a Board Member:
As a board member, I will continue to do what I have effectively done throughout my career: connect people and ideas to advance the vision and mission of the organization. I've done this through strategic planning, process improvement, policy development, measuring and reporting results, and building community coalitions. I developed and applied skills in resolving conflicts between parties, facilitating change, developing and implementing programs, managing projects and communicating to internal and external audiences.
As co-founder of the Office of Equity and Human Rights, I helped advance racial equity in the City of Tacoma, overseeing the development and implementation of policy, budget, and strategic plans throughout the organization. I will apply these experiences and skills in change management, systems-thinking and developing policies to support the mission of Toastmasters International.
As a policy analyst, I led a team in developing a performance management system that met international standards for government performance. This experience prepared me to develop measures and analyze data to achieve results that the community understood and supported.
As a continuous improvement consultant, I facilitated teams in creating a vision and mission for their efforts, planning and implementing processes that were efficient and effective. Examples of results included increased customer satisfaction, reduced paperwork and bureaucracy, establishment of a call center, and increased community involvement.
I frequently represented my organization on external committees which involved corporations, non-governmental agencies, non-profits, and local and national government agencies.
While serving as a manager in human resources, I developed mentorship and internship programs, and made process improvements to the employee performance management system.
I enjoyed using these skills, experiences and knowledge as an International Board Member. I am confident my skills will be of value when serving as an International Officer.
What experience do you have in strategic planning?
My experience includes strategic planning for a municipality with a population of 200,000 over multiple years. My role as facilitator included working with elected officials, senior management and community members to establish priorities, and then facilitate staff through a process to assign resources. As a co-founder of the Office of Equity and Human Rights, I applied my strategic planning skills to establish a vision and mission for the office, work plans to implement the overall plan, and built the resource infrastructure to support a new office. The plan included strategies for incorporating equity into workforce development, community engagement, and service delivery.
In addition to developing content for strategic plans, I have experience in designing and facilitating multiple strategic planning methods including SWOT analysis, scenario planning, World Cafes, and Appreciative Inquiry.
What experience do you have in the area of finance?
My experience in finance covers multiple dimensions, from establishing priorities for resources and engaging the community in budget priorities, to managing an operational budget. My experience includes assessing policies for their financial impact on the organization. I designed processes for incorporating community input in prioritizing a multi-million dollar budget. I facilitated elected officials, community and staff in developing budget priorities for resources, services and operations when the organization had to cut the budget by 25 percent. Also, I served as District Treasurer and as an audit committee member for multiple years.
What experience do you have in developing policies?
My primary responsibility as co-founder of the Office of Equity and Human Rights was to develop policies to meet three goals: a workforce that reflected the community, an increase in community engagement, and incorporating equity in service delivery. The policy goals were focused on eliminating institutional racism, gender discrimination and disproportionate impacts of services on people with limited resources. My work included policies related to human resources, finance, contracting, information technology, planning and service delivery.
While serving as a board member, I participated as a member of the Disciplinary Committee, Marketing Effectiveness, Corporate Relations, and Leadership Roles and Responsibilities committees.
What lessons did you learn from previous leadership positions?
Previous leadership positions have taught me the importance of being patient, humble, generous, and persistent. I've learned that leadership is an ongoing process requiring humility, perseverance, courage and follow-through. I've learned that leadership requires self-reflection and self-knowledge and at the same time it requires feedback from others about the impact of decisions and actions. I've learned to be curious, give everything my best effort, and know that there is always more to do. I've learned the joy and exhilaration of working in teams and understand that by relying on everyone's strengths we arrive at a better solution.
What experience and key strengths would you bring to the Board of Directors?
I have 25 years of experience in the public sector, and more than 35 years of experience volunteering in the charitable sector. My background in organizational management and leadership development have prepared me to understand the importance of strategic planning, managing change, working with teams, addressing conflict, and serving with integrity. As a Toastmasters member since 1998, I bring deep knowledge, experience, and love of the organization.
Why do you want to serve as an International Officer/Director?
Toastmasters International is on the cusp of profound changes in who we are as an organization. The changes will include a continued response to planned and unanticipated changes. I feel called to ensure that members' needs are given a voice, and that we continue to provide a structure that serves current and future members in their transformational journeys. Throughout my own journey as district leader, region advisor, board member, and most recently as a past board member serving on the change management and conflict resolution working groups, I have gained the necessary skills, passion and drive to help Toastmasters transition through the upcoming changes.
What volunteer experience do you have outside of Toastmasters?
While my primary focus in volunteer work has been Toastmasters for more than 20 years, I have also participated in a number of ways in community non-profits. These have included my local church, United Way, Boy Scouts, local sports programs, and school councils. My participation has ranged from fund raising, to leading teams, from single event participation to sustained participation for more than 30 years.
Have you worked with other Boards of Directors outside of Toastmasters? If so, describe your experience.
Government Alliance on Race and Equity (GARE): served on the steering committee for GARE, a network of governments working to achieve racial equity and advance opportunities for all. GARE works to advance racial equity in services including public safety, libraries, utilities, public health, and zoning for millions of residents in its service areas.
Tacoma 2025 Planning Committee: created a citywide vision and strategic plan which ensured the values, opportunities, priorities and accountability measures represented the community's aspirations.
Tacoma 360: a collaborative effort of community groups, education institutions, private industry, non-government and governmental agencies to address student achievement gaps in education, increase graduation rates, improve student readiness for school success. This multi-year effort resulted in long-term community partnerships and an increase of up to 50 percent in high school graduation rates.
Church council: crafted planning efforts in response to COVID-19 to ensure services took place and the community received ongoing support and communications.
Boy Scouts of America: served as committee chair, supporting scouts in achieving their goals.
School councils: served as parent liaison and council president, ensuring parent voices were part of the school decision-making process.
In your opinion, what are Toastmasters International's major objectives and how would you work to achieve them?
For the next few years, Toastmasters International has the opportunity to tap into the remarkable foundations built over the last century. Toastmasters International's primary objective, to be the first-choice provider of communication and leadership development skills, is more relevant than ever in an environment of rapid change. The world needs leaders, and it needs leaders prepared for global experiences. I would work to leverage the incredible leadership potential of our members to include their voices in how change is achieved. I would work to remove barriers that prevent us from achieving excellence, and expand our capacity to deliver on our promise of excellence to all who interact with our brand.
Additional information about candidate:
Since being invited to Toastmasters to help a friend win a membership contest (she gained points if I joined), I have enjoyed the benefits of Toastmasters. I wish the same for others. The more I engage with other Toastmasters, the more joy I gain from the experiences. Other joys in my life include spending time with my supportive husband Chuck and family members, including my two granddaughters. I also enjoy, living, learning and laughing with my family, Toastmasters family and friends.
---