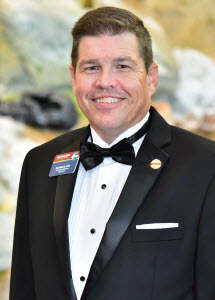 Candidate's Office: International President-Elect
Region Number: 8
Toastmasters member since: 2003
Education: MSCIS/BA Business Administration
Employer and/or position: MK Tech Group - Owner
Served as District Director of District number: 47
Term of service: 2012-2013
In term as District Director, District achieved: Not Distinguished
Website: presidentelect.mattkinseydtm.com
Toastmasters offices held and terms of service (international and regional level):
2020-2021 1st Vice President
2019-2020 2nd Vice President
Toastmasters honors and recognition (international level):
Relevant work experience and how it relates to Toastmasters and your role as a Board Member:
I have worked in several global companies as a lead project engineer for projects spanning up to 51 countries, with risk management responsibility. This has given me practical experience in these areas which are essential for an International Officer.
For the last 13 years, I have been the CEO of MK Tech Group, Inc., placing me with direct responsibility for all aspects of the business. This requires great attention to detail as well as the ability to step back and look at the overall direction of the business.
What experience do you have in strategic planning?
I have helped to develop strategic plans to improve the member experience, generate growth, reduce expenses, manage the introduction of new technologies and generate new sources of revenue. As a member of the Boy Scouts of America South Florida Council I have participated in the development of strategic plans at the local level to start new units, serve existing units and extend the local impact. While serving as an International Director, I participated in several strategic planning exercises and monitored our performance against the current strategic plan. As 2nd Vice-President, I participated in the creation of the current interim strategic plan.
What experience do you have in the area of finance?
While serving on the boards at my church, the Boy Scouts of America South Florida Council and Toastmasters, I have reviewed, approved, and provided oversight of the budgets and monthly financial reports. While serving in previous companies, I have had budgetary responsibility ranging from 500,000 to 10 million on various projects. I have complete budgetary responsibility and authority for MK Tech Group, Inc.
What experience do you have in developing policies?
While working with Office Depot, I was responsible for drafting and maintaining compliance with the IT Vendor Management and Assessment Policy, which became a Sarbanes-Oxley compliance policy. Sarbanes-Oxley is a US law requiring more stringent financial policies and disclosures for publicly traded companies. While serving at my church, I was the lead drafter of a complete re-write of the church bylaws that was eventually approved. While serving on the board at Toastmasters International, I reviewed, evaluated and offered amendments to existing policies to create more effective policies that address the needs of the organization, our clubs and members more effectively.
What lessons did you learn from previous leadership positions?
I have learned that mentors and coaches are essential as they are the ones most likely to point out your growth opportunities and blind spots in a way that will have a positive impact. I have learned that I am more effective as a leader, and team member, when I listen to understand first, before I respond. I have come to understand, as John Maxwell says, that leadership is not about position, it is about influence. Most importantly, I have learned that leadership is about your heart and not your head. Teams don't care about your knowledge and expertise until they know that you care about them and the mission.
What experience and key strengths would you bring to the Board of Directors?
My key strengths include more than 50 years of combined experience across multiple boards, a proven track record working with International teams to support global operations and my expertise in strategic planning, including SWOT analysis, assessments, and policy development. These have been demonstrated through more than 30 years of professional experience, resulting in improved organizational performance across many areas.
Why do you want to serve as an International Officer/Director?
I think I have more to contribute to the organization by serving in this role. I believe I have the temperament, professional skills and life experience working with small start-up companies to major global enterprises that will allow me to contribute to our organization and our membership as we continue to grow. My experience working with 3 other organizations undertaking similar efforts to our current strategic plan make this an ideal time for me to serve. I am an example of how effective our program can be and I want to see more people benefit from their experience with Toastmasters.
What volunteer experience do you have outside of Toastmasters?
I am in my 26th year as a volunteer with the Boy Scouts of America, serving in numerous roles, including as a Council Board Member and currently serve as the Camping Chairman for the council. I have previously been the Logistics chair for the Kids in Distress Inlet Challenge bicycle ride. I am a technology advisor to the Board for CSP Express, a cycling club and advocacy group. At Coral Springs Community Church, I have served in many roles, including on the Board.
Have you worked with other Boards of Directors outside of Toastmasters? If so, describe your experience.
I have served on 7 non-profit boards (South Florida Council, Boy Scouts of America; Coral Springs Community Church; Kids in Distress Inlet Challenge; Troop 497; Pack 397; Toastmasters International and CSP Express as an advisor) and 2 for-profit boards (BNI Broward and MK Tech Group). In all terms, I have had a combination of strategic and financial responsibility including fundraising, member service, program delivery, membership growth and policy creation. I currently serve as the chairman for MK Tech Group.
In your opinion, what are Toastmasters International's major objectives and how would you work to achieve them?
Our most significant objective currently is to stabilize and strengthen the organization as we continue to address the impact of COVID-19 on our clubs and members. To that end, I will be carefully monitoring the financial situation and the ongoing projects to ensure accountability and flexibility in the accomplishment of our goals.
Additionally, I think we need to examine existing barriers for our members and determine which we can remove, and how we can do so in a safe and financially responsible manner.
Additional information about candidate:
We have 3 Distinguished Toastmasters in the family: me, my wife of 31 years Jeanine and our son Brandon, who works with us in our business. Our daughter Erin is an assistant manager in a retail chain. We have 2 grandchildren, Michael (5) and Ayden (3). I love road cycling, camping, hiking, writing poetry and studying the mysteries of how our universe came to be. My personal mission is to help others understand their significance, that quality they have that is uniquely them and has a positive impact on those around them.
---